Advanced on-board data processing and AI for small satellite missions
Chicago, Illinois – December 7, 2020 – KP Labs announced they have joined the Orbital Transports partner network by making their Smart Mission Ecosystem available through the SmallSat Catalog. The Smart Mission Ecosystem (SME) is a set of hardware, software, and AI-powered algorithms that supports the complete lifecycle of advanced smallsat missions from the analysis and design, through faster satellite integration thanks to the built-in algorithm, software and hardware-in-the-loop tests, to the increased reliability of operations in space and the on-board data processing supported by the artificial intelligence.
"We're glad to join the SmallSat Catalog by Orbital Transports and believe it's an important step towards new markets and challenging missions," said Helena Milevych, Head of Product Development at KP Labs. "Our Smart Mission Ecosystem was designed with a holistic approach to enable on-board data processing on the payload and satellite level, as well as to ensure safer and more fault-tolerant missions as it brings together hardware, software and AI-powered algorithms to complete even the most demanding missions."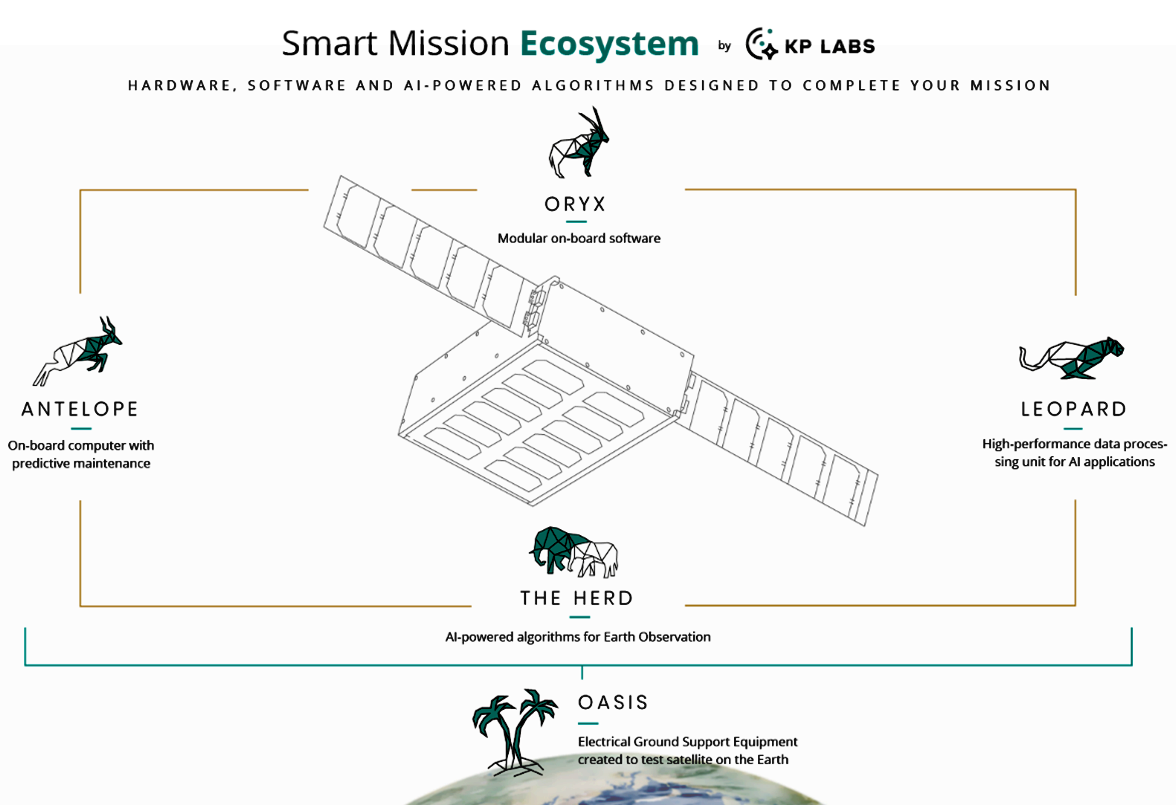 SME consists of Smart payload (Leopard and The Herd) and Smart satellite (Oryx, Oasis and Antelope):
Leopard is a CubeSat standard-compliant data processing unit enabling mission designers to apply AI solutions in space. It was designed to support the capturing, managing, and processing of data in orbit.
Oryx is a modular flight software tool developed for small satellite mission control. If components are not directly supported by Oryx, customers can simply extend their simulation by creating customized drivers.
Antelope is an on-board computer that combines a Telemetry, Tracking & Command module and a data processing unit. It is the powerful heart of the satellite, responsible for satellite control and basic task performance.
Oasis is a single-board, CubeSat PC-104-compatible electrical ground support equipment that enables the running of a complete flight version of software on actual hardware before the subsystems are physically present.
The Herd is a group of on-board AI-powered algorithms for image correction and data analysis dedicated to Earth Observation.
SME is one of many services and products featured in the SmallSat Catalog. Orbital Transports' SmallSat Catalog showcases a wide variety of small satellite hardware components, small satellite buses specialized for common space missions, mission analysis services, ground station services, mission operations software, and more from industry partners. Orbital Transports has brought together many of the industry's most innovative and reliable companies to offer a wide set of solutions while meeting clients' quality requirements.
About KP Labs
KP Labs is an innovative NewSpace company based in Poland. Our mission is to accelerate space exploration by advancing autonomous spacecraft operation and robotic technology. KP Labs expertise includes, but is not limited to, flight software, hyperspectral imaging instruments, AI algorithms, and high-efficiency Leopard processing unit enabling on-board data processing. For more information, contact Katarzyna Lipka, KP Labs, email: klipka@kplabs.pl, or visit www.kplabs.pl.
About Orbital Transports
Headquartered in Chicago, Orbital Transports delivers complete small satellite programs, from initial concept through completed mission. The company handles end-to-end space logistics by managing the complex operations involving the space vehicles, human resources, facilities, and services required for successful space missions. For more information about our small satellite mission services, or about becoming a member of our partner network and having your products and services listed in the SmallSat Catalog, contact David Hurst at (773) 218-6151, info@orbitaltransports.com, or visit the SmallSat Catalog, the complete supply chain for smallsat missions, at https://catalog.orbitaltransports.com/.