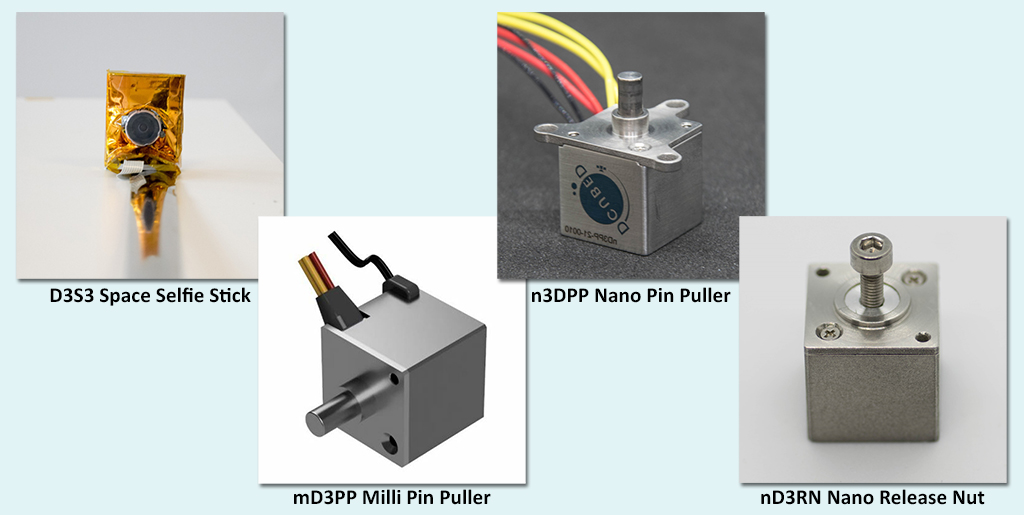 Actuators and first deployable mechanisms from DcubeD now available through the SmallSat Catalog
Chicago, Illinois – June 15, 2021 – Deployables Cubed GmbH (DcubeD), a NewSpace SmallSat deployable mechanisms company, is making its release actuators and other deployable mechanisms available through the Orbital Transports SmallSat Catalog. DcubeD develops miniature actuators and deployables specifically designed and developed for SmallSat and NanoSat customers.
DcubeD's mD3PP, nD3PP, and nD3RN resettable release actuators can be used to trigger deployable satellite structures, release a satellite from a CubeSat dispenser, or as a hold-down release mechanism for spacecraft/payload separation, to name just a few applications. The D3S3 space selfie stick puts a camera at the end of a self-extending boom, enabling high-quality promotional images of a satellite to be obtained directly from space and for monitoring of a satellite's health without relying on on-board sensors.
"We are stoked to have our DcubeD NewSpace release mechanisms and deployables available on the Orbital Transports SmallSat Catalog," said Dr. Thomas Sinn, CEO of DcubeD (Deployables Cubed GmbH). "Truly, space logistics made easy. More great things to come. We are looking forward to a close partnership with the team at Orbital Transports."
"We are proud to include DcubeD's pin puller, release nut, and space selfie stick products in the SmallSat Catalog," said David Hurst, CEO of Orbital Transports said, "Making these deployables available in the SmallSat Catalog will accelerate the utilization of space through the creation of innovative and user-friendly technologies."
Orbital Transports is bringing the smallsat supply chain online with the SmallSat Catalog, a digital portal showcasing products and services from some of the industry's most innovative and reliable companies. The first resource of its kind, the SmallSat Catalog is your one-stop shop for all your smallsat mission needs. The catalog features CubeSat and smallsat buses, COTS nanosatellite hardware components, ground station services and mission operations software, orbital transfer services, hosted payloads, and satellite servicing and refueling technologies. The SmallSat Catalog provides a convenient go-to resource to check out the latest and greatest that the smallsat industry has to offer.
About DcubeD (Deployables Cubed GmbH)
Located in Germering, Germany, DcubeD (Deployables Cubed GmbH) develops actuators and deployable structures tailored for nanosatellites and the commercial space industry. DcubeD release mechanisms enable deployable structures like solar arrays, radiators, baffles, and antennas to be implemented effectively on small satellites and nanosatellites. The actuators and release mechanisms are developed with the needs of New Space customers in mind, where size, cost and availability are most important. For more information, visit DcubeD at https://www.dcubed.space/.
About Orbital Transports, Inc
Headquartered in Chicago, Orbital Transports, Inc delivers complete small satellite programs, from initial concept through completed mission. The company handles end-to-end space logistics by managing the complex operations involving the space vehicles, human resources, facilities, and services required for successful space missions. The Orbital Transports SmallSat Catalog presents your complete supply chain for small satellite missions including smallsat buses and hardware components, mission analysis services, ground station services, mission operations software and more from many of the industry's most innovative and reliable companies. For more information about our small satellite mission services, or about listing your products and services in the SmallSat Catalog, contact David Hurst at (773) 218-6151, info@orbitaltransports.com, or see our website at www.orbitaltransports.com.