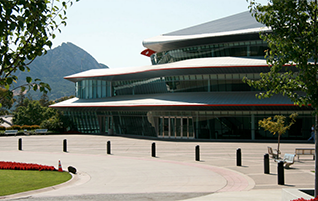 The Cal Poly CubeSat program has been hosting the CubeSat Developers' Workshop for the past thirteen years, but this year is a bit different. Driven by years of success, and growth of the market, the event has outgrown the facilities they used in previous years.  It will now be relocating to the Performing Arts Center on the Cal Poly Campus to host the workshop on April 26-28, 2017. The annual event brings together participants from around the world to share and discuss the latest developments in space and CubeSat technology.
Orbital Transports will be one of this year's attendees. Dr Geza Gyuk, the company's Chief Scientist, will be discussing the growth of the company and its latest projects while connecting with partners during the 3 day event.  "Orbital Transports is excited to see what CDW has to offer this year," said CEO David Hurst. "It presents a worthwhile opportunity to keep track of how the CubeSat market is evolving, and how to enable growth in this industry segment."
Increased investment and development in CubeSats are key stepping stones in expanding the larger space market, and drive the need for space logistics companies like Orbital Transports. Offering businesses with limited prior experience in space a low-risk and cost-effective opportunity to harness the value of this market, the company delivers missions from initial concept through to completion, opening the industry to new participants and increased investment potential.
If you're at the CubeSat Developers' Workshop this year, be sure to look for Dr. Gyuk. Space might be hard, but space logistics can be made easy.