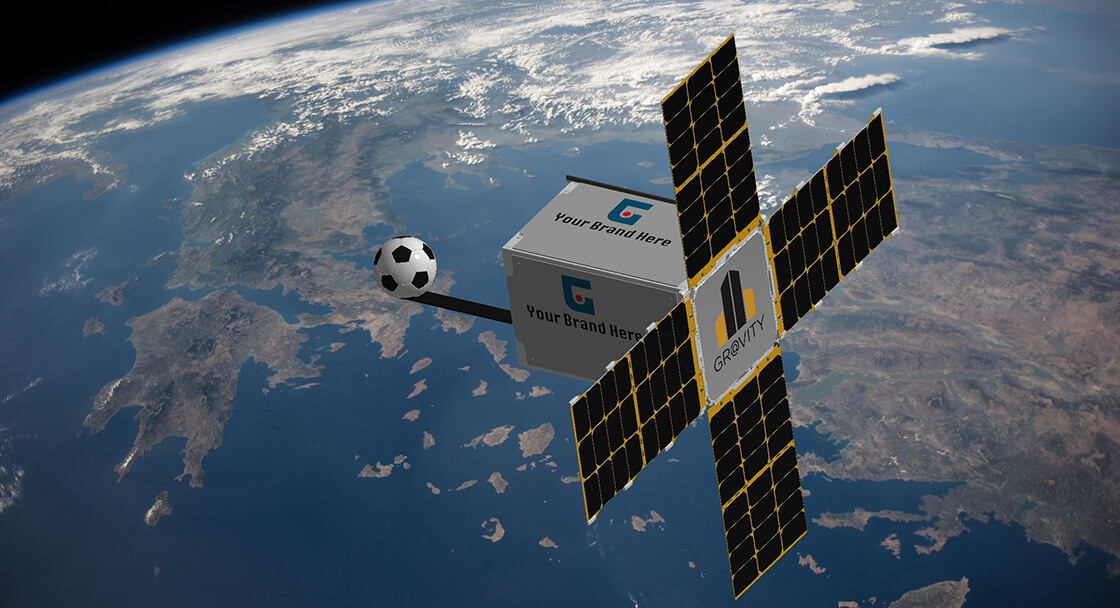 Chicago, Illinois, July 13, 2021 – Gr@vity, Inc. (Gr@vity), a global marketing agency launching the world's first-ever space marketing campaign, has announced a strategic partnership with Orbital Transports, Inc. and its CEO David Hurst, who joined Gr@vity's executive board as Co-Founder and CTO. Orbital Transports will aid in the delivery and operations of Gr@vity's space marketing and content activations. Gr@vity is currently in discussions with a number of global brands across different sectors to lay claim to the title of "First Space Marketing Campaign".
"Gr@vity's spacecrafts are the first and only to provide the access and capability for the new marketing and content medium in space," said Zach Zeurcher, Founder and CEO of Gr@vity. "While there have been marketing stunts in space and near space, there has never been a cohesive and continuous global space marketing campaign."
Launched into a 500-600 km polar orbit providing for physical coverage of the entire world, the Gr@vity-1 satellite will include a deployable branded object representing the sponsor brand extended from the spacecraft into the imaging system's field of view for photos, video, live streaming and broadcasting, and tracking in Earth's orbit. "There is so much we can do in terms of content, branding, marketing messaging, and experiences, including extended reality (XR) and customized navigation, to provide our clients unprecedented opportunity and value," said Zeurcher. "One of the many value points is helping our clients create powerful campaigns around environmental sustainability by inducing the overview effect—seeing the Earth from space; if we are going to survive together on this planet, immediate issues such as the climate emergency must become a top priority."
As a space logistics provider, Orbital Transports delivers complete small satellite programs from initial concept through completed mission. Under the agreement with Gr@vity, Orbital Transports will provide mission services including design, development, production, testing, launch integration services, and on-going operations.
"Orbital Transports and I are excited to join Gr@vity on this mission," said David Hurst, CEO of Orbital Transports, and CTO of Gr@vity. "As a strategic partner, Orbital Transports looks forward to supporting future missions as Gr@vity continues to build out capabilities for novel media and content from space."
"This is a spectacular and career-defining moment to be involved in mass scaling space globally for everyone to experience", said Co-Founder and CMO of Gr@vity Richard Askam. Askam is a marketing veteran who most notably was behind the delivery of the online "Share a Coke" campaign in Europe. "We are very excited to be working with hardened space experts at Orbital Transports to tell the world the sky is no longer the limit!"
About Gr@vity Space Marketing
Gr@vity is a global marketing agency with the logistical capacity and technical expertise to execute in-space marketing and content activations. Gr@vity's team, with deep experience in marketing, engineering, space, technology, and business development crafts marketing campaigns that are out of this world—literally! Gr@vity bridges the polar opposite universes of STEM, creative, and everything in between for the world's most novel and engaging marketing and content activations. For more information, contact Zach Zeurcher at (330) 272-2494, zach@gravityspacemarketing.com, or visit http://gravityspacemarketing.com.
About Orbital Transports
Headquartered in Chicago, Orbital Transports delivers complete small satellite programs from initial concept through completed mission. The company handles end-to-end space logistics by managing the complex operations involving the space vehicles, human resources, facilities, and services required for successful space missions. For more information about our small satellite mission services, or about becoming a member of our partner network and having your products and services considered for the SmallSat Catalog, contact David Hurst at (773) 218-6151, info@orbitaltransports.com, or see https://www.orbitaltransports.com.