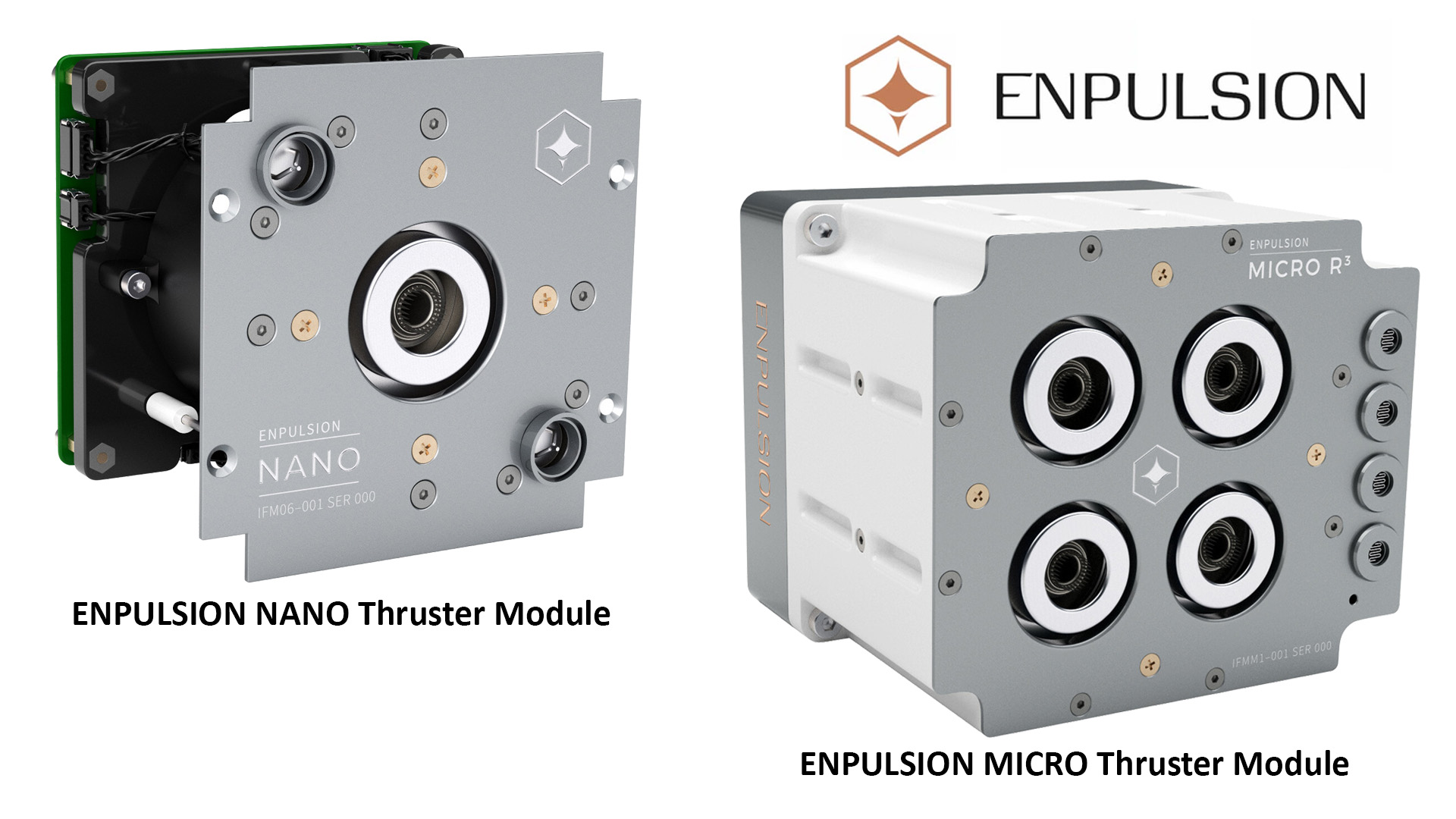 SmallSat Catalog expands propulsion product line with FEEP technology thrusters from ENPULSION
Chicago, Illinois – May 18, 2021 – The SmallSat Catalog from Orbital Transports expanded its line of small satellite propulsion products with additions from ENPULSION. The inclusion of ENPULSION NANO and MICRO product families broadens the range of capabilities available through the digital catalog of products and services for the smallsat industry.
ENPULSION's modular Field Emission Electric Propulsion (FEEP) technology enables custom propulsion solutions designed for your mission needs. The highly versatile NANO series of modules can be clustered, supporting various configurations for attitude control, orbit life extension, formation flying and constellation control, and highly efficient deorbiting. Building on the heritage of NANO thrusters of which more than 60 are currently in space, the ENPULSION MICRO R3 is a scaled version of the technology appropriate for small and medium size spacecrafts.
"We are very happy to become a part of the Orbital Transport SmallSat catalog," said Dr. Alexander Reissnter, CEO of ENPULSION. "We believe that this will allow even more potential customers to benefit from our space-proven technologies and products."
Orbital Transports is bringing the smallsat supply chain online with the SmallSat Catalog, a digital portal showcasing products and services from some of the industry's most innovative and reliable companies. The first resource of its kind, the SmallSat Catalog is your one-stop shop for all your smallsat mission needs. The catalog features CubeSat and smallsat buses, COTS nanosatellite hardware components, ground station services and mission operations software, orbital transfer services, hosted payloads, and satellite servicing and refueling technologies. The SmallSat Catalog provides a convenient go-to resource to check out the latest and greatest that the smallsat industry has to offer.
About Enpulsion
ENPULSION GmbH is a space tech company based in Austria. Founded in 2016, it has quickly become a dominant player in the space industry selling one of the most advanced propulsion solutions for smallsats to a large number of worldwide satellite platform integrators. The unique modular solutions offer to satellite manufacturers high performance at a low cost, enabling the exploration of the Solar System and the democratization of space. ENPULSION is thus positioned at the very heart of the New Space era. For more information, visit ENPULSION's website at www.enpulsion.com.
About Orbital Transports
Headquartered in Chicago, Orbital Transports delivers complete small satellite programs, from initial concept through completed mission. The company handles end-to-end space logistics by managing the complex operations involving the space vehicles, human resources, facilities, and services required for successful space missions. The Orbital Transports SmallSat Catalog presents your complete supply chain for small satellite missions including smallsat buses and hardware components, mission analysis services, ground station services, mission operations software and more from many of the industry's most innovative and reliable companies. For more information about our small satellite mission services, or about listing your products and services in the SmallSat Catalog, contact David Hurst at (773) 218-6151, info@orbitaltransports.com, or see our website at www.orbitaltransports.com.